Welcome to the Greenleaf Gazette!

Finding the Future in the Past

June 2011
Dear Miniature Enthusiast,
It's Victorian and futuristic. It's fantasy and factual. It's romance and gears; science fiction and circus marvels; elaborate, elusive, elegant and above all, endlessly imaginative! It's steampunk and even if you aren't inclined to Geeky Victoriana it's still a fascinating genre.

This month we're taking you into the world of steampunk miniatures and I'm pretty sure that you'll enjoy what you see. Whether it's Dr. Potts or Harry Potter, we all know how much miniaturists love the unusual, magical and just plain creative. I'm also pretty sure that you might be surprised at just how easy it is to get started creating steampunk in miniature. We have some inspirational pictures to get you motivated, a basic steampunk tutorial for a very cool "Food and Beverage Cooling Receptacle", and as a special bonus, we're re-running Chris Shea's fabulous telescope tutorial just because it's the perfect piece to take one step further into steampunk.

Before we run off on our steampunk adventure, here's a quick reminder to check out the latest chatter about this year's Spring Fling contest!
Deb Roberts
Editor in Chief
---
Futuristic Victoriana

By Deb Roberts

Even if you're not sure what it is, by now you've heard the term "steampunk" here and there. You might have seen something like this steampunk laptop computer in the news or maybe something like these totally adorable steampunk wedding cake toppers making the rounds of the web. If you're lucky you might have seen this most wonderful and amazing Steampunk Witch by doll artists Jodi and Richard Creager.
---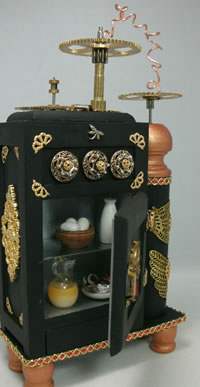 Food & Beverage Cooling Receptacle (Steampunk Ice Box) Tutorial

By Deb Roberts

I hear a lot of people say that they'd like to try their hand at making a steampunk miniature but are hesitant to give it a try because they don't work with metal or they aren't mechanically inclined. The great news is that neither of those things are required! You can be a steampunk miniaturist with your imagination, a couple of minis, some wood scraps, a little paint, and a quick trip thru an old jewelry box and the junk box in the garage.

Full story...
---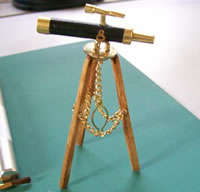 Telescope Tutorial

By Chris Shea

I found a site that had a telescope on a tripod for $110.00. Well, not having the last name of Rockefeller or Gates, I decided...what do I have lying around that I might just try to make my own.
---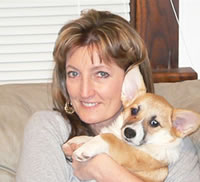 Member of the Month - Meet Debora!

By Heidi Cleveland

I would love to introduce you to the May Member of the Month, Debora (Debora59). She has been a member of the Greenleaf forums since January 2, 2010. Debora may be a newbie in our hobby but she has shocked me at her abilities so soon. She is going to be a mini force to reckon with someday.
---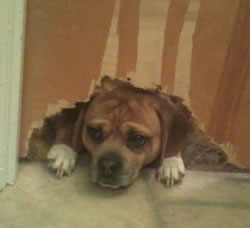 The Critter Corner!

Introducing the New and Improved "Doggie Drill" Tool!

Have you been searching for the perfect tool for cutting plywood? Have you tried skill saws and hack saws and even fancy specialty tools that come with high price tags but haven't been satisfied? Well search no more my friends! Buckeyepie would like to introduce you to the all new 'Doggie Drill'; a tool that takes all the hard work out of cutting holes in plywood. Simply position the Doggie Drill on the opposite side of the piece of wood and walk away. When you come back a few hours later, your sheet of plywood will have more holes in it than swiss cheese!.

Thanks to Buckeyepie for sharing such a cute picture with us. Lindsey will receive a $25 gift certificate from Petsmart for being featured in this month's Critter Corner.

If you'd like to submit your pet's picture for consideration for the Critter Corner, you can upload pictures in the "Good Pets acting bad!" or "Good Pets acting cute!" galleries at the Greenleaf Forum.