Member of the Month - Meet Debora (Debora59)!

By Heidi Cleveland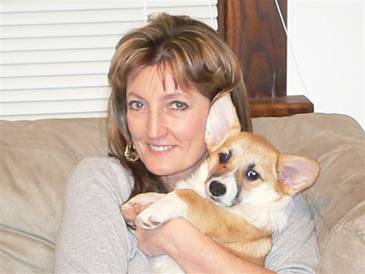 As I am writing, I am still in a sweater in the house. We here in New England are experiencing an unusually colder Spring than years past. It has been damp too. So everything feels sticky and things take forever to dry. I am not even going near a bottle of glue or paint until it dries more in the house. May has had flowers but plenty of showers too. Maybe you can play with some mini flowers and have a bit of Spring come to your dollhouse.
I would love to introduce you to the May Member of the Month, Debora (Debora59). She has been a member of the Greenleaf forums since January 2, 2010. Debora may be a newbie in our hobby but she has shocked me at her abilities so soon. She is going to be a mini force to reckon with someday. Her gallery will amaze you. You can check it out here.
Deborah lives in Iowa with her husband. She raises Longhaired Dachshunds and Pembroke Welsh Corgis. The kids are all grown with the youngest being 18 years. Debora works for Metlife as a loan officer. She works from home and also travels to her clients.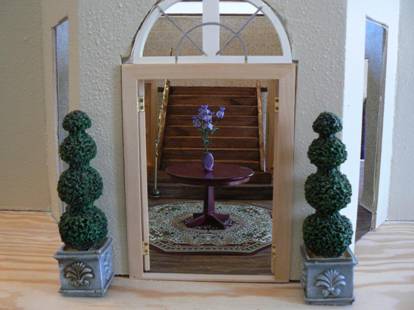 Debora says that 2010 was really her first year in miniatures. She cannot believe all the things she has done and learned in just one year. She says that the best part was sharing and learning on the Greenleaf Forums. She would have never begun her mini adventure without the help from the members. She says that art and design have been a big part of her entire life. It started early with her and never stopped. She started with drawing, then painting, sewing, and many other art mediums.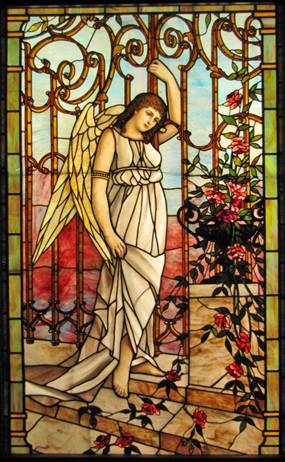 She says that her daughter was two years old when she decided she wanted a dollhouse for the first time. She wanted to build her daughter a Barbie house. She had no skills, so she designed the easiest way to make a two story Barbie dollhouse. She did this with one piece of plywood and a base. She asked her Dad to do the cutting because she was very afraid of power tools at that point. She had so much fun decorating and designing it. She made furniture out of cheese boxes and upholstered them. She even made a bassinet out of the bottom of Ivory dishwashing liquid bottle. Debora was very proud of the work she did on that house and had wished she knew how to electrify it. When her daughter turned 18, Debora gave the house a re-do. She redecorated, bought new furniture, and searched for working lights for it. Her husband knew a mini bug had bitten Debora and purchased her first dollhouse kit in 2010.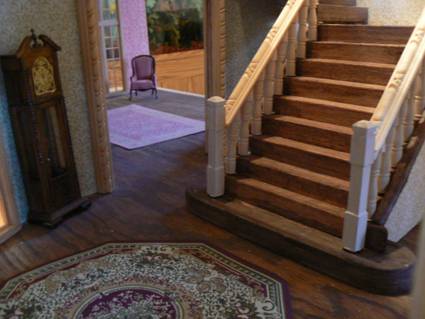 Debora bought a garage sale dollhouse 10 years ago. Christmas time 2009 she decided she was going to paint the outside to look like a gingerbread house. She could not believe how much she enjoyed it so she did the same to the interior. Her husband bought her The Princess Anne as her first kit in January 2009. He said it could be her learning kit. Soon after starting that kit, she found a Beaumont kit online which was a dream house that she could afford. Debora consumed herself into the task of building and decorating the Beaumont. If she was not working on it, she was thinking about working on it. She spent a year browsing at what the world had to offer in doll house kits and was not satisfied. Her husband finally said "When are you going to build your own dollhouse?" She did not think she could do it especially with her fear of power tools. But she knew what she wanted. She wanted it to large castle or mansion with tall ceilings and big rooms. It would be about the structure, not just the contents. Her husband bought her some power tools for an early Christmas present and she started her first scratch build dollhouse.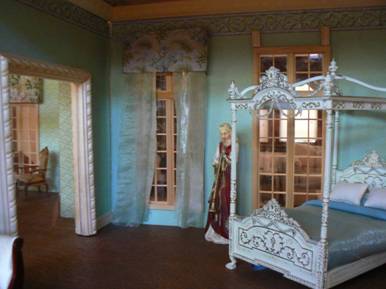 Debora says that designing is what she only dreams about and then lighting it up. She says that she does mental walk through of the house. She plans and dreams about what to do next. She thinks she should have been an architect. She says that she feels completely alive and on cloud nine when she is working on her houses. That sounds like a great place to be. She has a dream of doing some grand landscaping of her French Chateau with gardens and pools. She is still interested in building a Beauty and the Beast castle or any Disney type castle. Debora also has some real life buildings that she says speak to her in miniature. The Chateau is her favorite and she will continue to work on it for months to come. The ideas keep coming and the third floor has not even been started yet.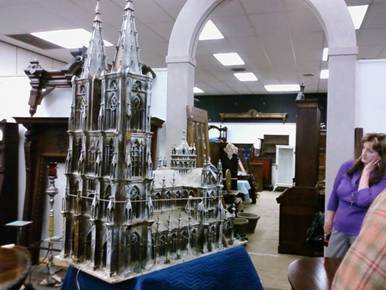 Debora says she has plenty of plans for the rest of the year. She is going to work on the interior of the miniature treasure she found a few months ago. It is a 1920s hand built Cathedral with over one hundred windows. She thinks this definitely puts her in the collector category now. Her Dad thinks she should open a store/museum for her unique collection. The Cathedral really is something that should be in a museum. Also in the future she would like to learn some things. Debora wants to take a class from Barbara Sabia on miniature stained glass and learn to work with paper clay. She would love to someday go to the Chicago International show and the one held in England also.
I asked Debora if she had any advice for the newest members of the dollhouse tribe. Debora says that she didn't start this ten years ago when her husband suggested it because she thought it would be an extremely expensive hobby. It can be, but it doesn't have to be.
For participating as the Member of the Month, Debora will receive a $25 gift certificate to the Greenleaf Store.