Futuristic Victoriana

By Deb Roberts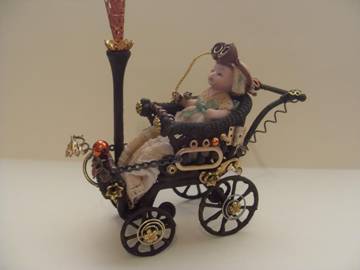 Even if you're not sure what it is, by now you've heard the term "steampunk" here and there. You might have seen something like this steampunk laptop computer in the news or maybe something like these totally adorable steampunk wedding cake toppers making the rounds of the web. If you're lucky you might have seen this most wonderful and amazing Steampunk Witch by doll artists Jodi and Richard Creager.
There are many different definitions of steampunk depending on whether the person defining it is into science fiction, Victoriana, or even craves a bit of punk overtones. Realistically however, steampunk is a sub genre that falls into a category miniaturists love---the Victorian era. Loosely defined, it's an interpretation of how the Victorians might have perceived the future while being swept up into the industrialization of their society.
Consider that the practical application of the industrial revolution overlapped the Victorian era. And what a revolution it was! Suddenly things were changing and the entire world was expanding at a rate never seen before. Steam power led the revolution toward a society moved by machines but the glamour embraced by the Victorians was in the smaller and more beautifully detailed items being manufactured by the mid 1800s when watch makers, textile artisans, glass makers and machinists began discovering practical applications for mechanical assistance in their craft.
Imagine living at the dawn of that second industrial revolution when each new invention was like a new magic trick. How romantic it must have been to see gaslight as it sparkled over the shining surfaces of glass and metal for the first time! And not only was it beautiful and efficient, in time it also became practical and affordable.
Capturing the romance of these changes and grasping the breathtaking potential for future inventions were authors such as H.G. Wells and Jules Verne. The vision of these authors went well beyond anything that was feasible at that time. Their imaginations saw future use of technology in underwater travel, or even travel thru time and space. Using machines, they would take readers of the current day into new worlds or alternative futures where giant drills bored their way into the center of the earth, or bring to life a miraculous machine with levers and wheels and spinning globes that would transport a person to another time and place. And of course, since it was the Victorian era, all of this was done with style, sparkle and decadence.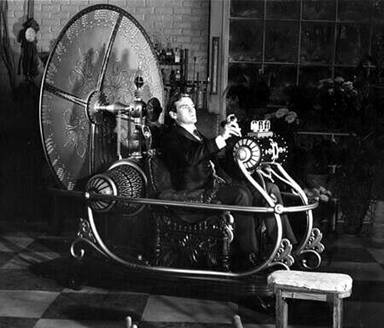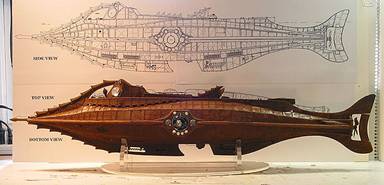 While authors and Victorian society romanticized the industrial revolution, scientists and engineers were the ones making it happen---and sometimes they contributed more than just inventions! Nikola Tesla was considered eccentric and labeled a mad scientist but to a steampunk enthusiast his was an eclectic and amazing personality. Thomas Edison may have won the war of currents, but Tesla is the one people remember as being the most daring and exciting.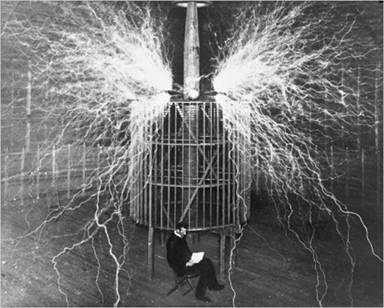 Steampunk may be going thru a popular revival right now but it never really went out of style. As a society we've never lost our fascination with things that move and click and whirr and grind and flash pretty colored lights in the process of doing something else. Best of all, human nature is always going to be curious and inventors will never cease to exercise their creativity. After all, most inventions come about from someone saying "What if…."
Dick Van Dyke played an inventor asking "What if…" on the silver screen in the 1960s and before we knew it, there was a steampunk car flying over the English countryside!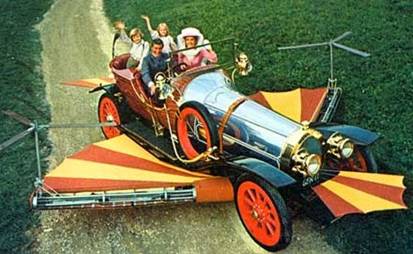 (I had to include Chitty Chitty Bang Bang simply because I would love to do Professor Potts' workshop in miniature and include all the little steampunk inventions sitting on the shelves and along the walls.)
More recently the movie "The Golden Compass" brought steampunk further into the mainstream with fascinating details such as fabulous air ships and intriguing horseless carriages.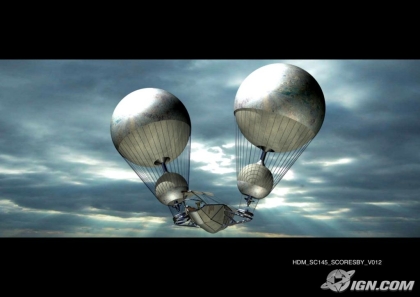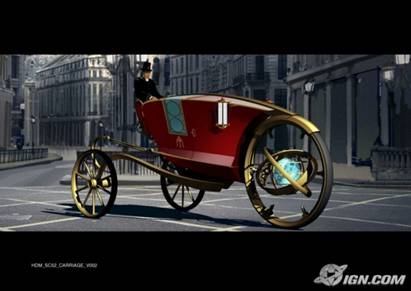 Are you seeing it yet? Do you feel it? Are your fingers beginning to get that itch because your creative Muse is whispering "You can do that" when you think of it in miniature? Are you getting the feel for the balance of rich, luxurious textures such as wood, metal and glass combined with tubes, levers, and gauges? If so, then you've got it! Or more accurately, it has you. Steampunk miniatures are a whole new aspect to our mini addiction.
As with any other genre if you want it, you can make it in mini! In fact, as miniaturists we have an advantage over other steampunk creators because our creations aren't expected to work. I had to chuckle recently when someone commented about my steampunk stove saying, "I'd be more impressed if it actually worked". So would I!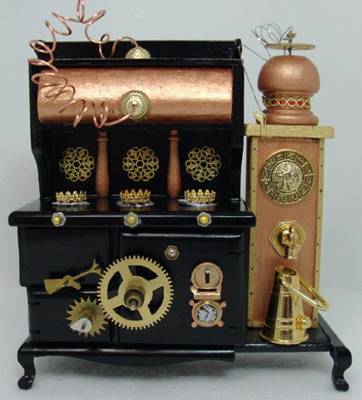 Even tho it can't boil water, I still love the way it gives the illusion that it might be possible even if I'm not sure exactly how it will occur. As the creator I see practical uses and purposes for each item on the stove but they may not be the same thing that other people see when they look at it. Imagination steps in and suddenly gears and copper coils and gauges take on a completely different purpose even tho the outcome may be the same.
It's not necessary but when I make a steampunk miniature I do like to make it look as if it's a replica of a genuine machine. My biggest challenge is not knowing the slightest thing about how steam power works! That's where the imagination steps in and with a bit of paint and some clever gluing, this rocker looks as if it is steam powered with working levers to make it rock back and forth. It even has a bit of white cotton "steam" puffing out the chimney.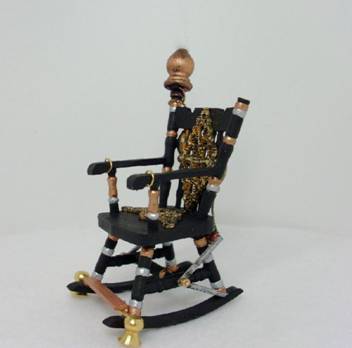 The only metal on this chair are the brass stops on the front of the rocker, the ring handles on the arms and one small coil on the back. Everything else is painted wood or plastic. Could you tell at first glance? Even the oil smudges and grease smears around the machine parts are paint. However the illusion is all about metal and believe me, it's a whole new kind of fun to let your imagination go with a box of wood scraps and some metallic paints!
Time travel is always an alluring concept in steampunk and when I made this "Time Preservation Napping Device". My inspiration that day was an overwhelming need for a nap that conflicted with a long list of things to do and left me longing for a time machine so I could do it all. I took apart a skeleton clock to harvest pieces like the pendulum and the clock face as well as the gears, coils, springs, etc. I followed the time theme and let the bits and pieces lead me to the end result.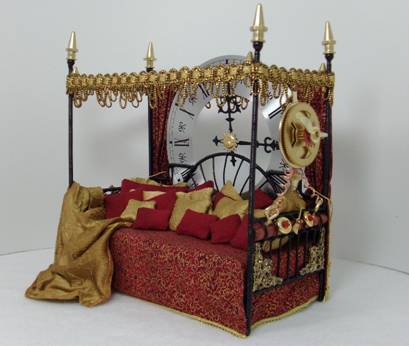 The total effect is very Victoriana, using the rich textiles that were popular at the time and combing them with brass, silver, copper, wrought iron and some beads here and there for sparkle.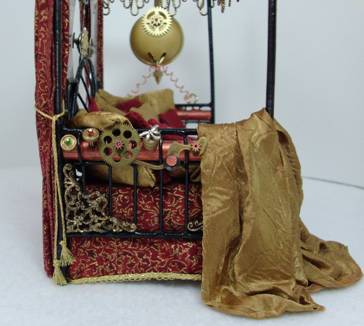 Even the pendulum was put to use as part of the time travel mechanism. A small dowel rod was cut to fit under the arm of the day bed and painted copper so I could mount levers made of bits of metal and beads. Other fascinating parts made of brass and copper give the illusion of being very businesslike but still exuding the decadence that's purely Victorian. What does the button with the silver dragonfly do? I don't know. I've been a little afraid to push it and have my bed go flying out the window!
Linda has an expert touch when it comes to inventing steampunk miniature that look real enough to change history if she'd lived in 1850. She's been working on "Sprockets Steampunk Emporium" to go in her Beacon Hill extravaganza and so far her creations are spot on.
For example, there's her steam powered pram that has so many fascinating details that I don't know where to look first.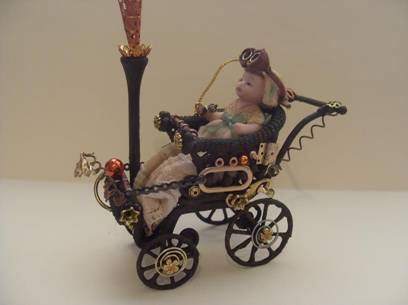 Just look at all the beautiful and ornate accents on this traditional Victorian pram! My favorite detail is the tiny pair of goggles for the baby to wear. How sweet is that? But the bits of copper and brass lead the eye to explore further to fully appreciate the flower ornamentation on the wheels and the filigree brass work at the base of the chimney.
Linda changed gears just a bit for this chair. (Sorry, I couldn't resist the pun.) This is steampunk design at its most innovative and ornamental.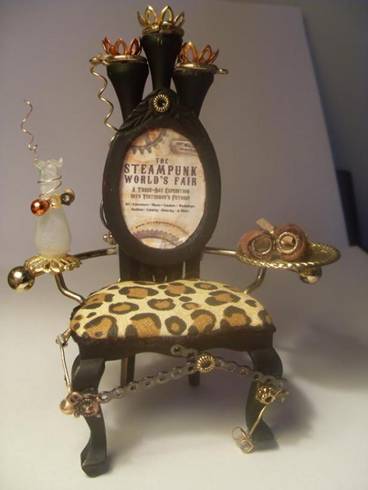 I love looking at the asymmetrical lines of the bottom part of the chair and the way Linda has combined the elegance of cabriole legs with gears and machined parts. Her bold use of brass around the arms of the chair, replacing the wood brings together the old and the new and I think it provides a lovely visual experience. The old fashioned World's Fair ad on the back of the chair is the perfect finishing touch.
One of my very favorite steampunk pieces done by Linda is her telescope.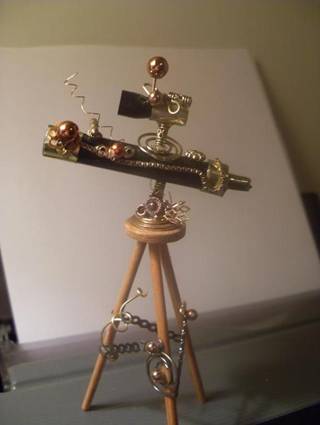 Every time I look at it I see something new and exciting. There's a lot of movement going on within the placement of the coils and beads that say this telescope is probably made for communicating with the stars, not simply gazing at them.
When she puts it all together in her Emporium, it's breathtaking!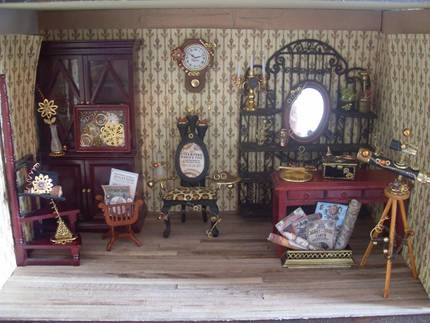 From the framed gears to the sprocket flowers, everything in this scene is a delight. It's futuristic and Victorian all at the same time which makes it perfect steampunk.
Let's not forget the proper attire! Fashion is very much a part of the steampunk look and even dolls can look the part. It's easy to dress up an existing Victorian doll by gluing accessories such as gears and grommets to her clothing and adding a steampunk hat.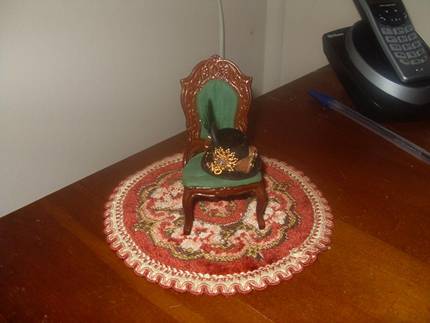 Casey and her mini helper Zar show the more practical side of steampunk fashion—the leather apron and goggles that ever mini inventor needs.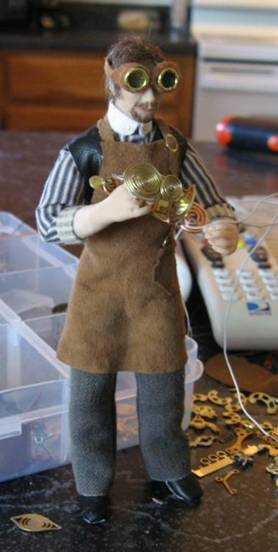 Speaking of the practical, Zar is definitely a forward thinker with his cappuccino machine.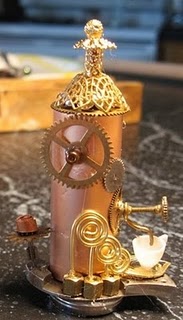 Isn't that beautiful? These are the things that make steampunk so marvelous in miniature. It's over-the-top-glamorous-Victorian which is something that we miniaturists know how to do very well. It's all about imagination and creativity which is also something else we do very well. Best of all, we know how to take a few small bits and pieces and turn them into something entirely new so we can make our own steampunk minis.
As you embark into your steampunk journey there are a few little tips to take with you on where to find things you can use for your steampunk creations. Obviously watches and small clocks are filled with tiny gears and whirligig shaped parts that adapt well but you'll find just as many perfect treasures in the beading section of the craft store. Sequin pins, jewelry findings, clasps, chains, and wire are all just waiting to be turned into turn of the century science fiction miniatures. The charm section has all sorts of things like keys and ornate filigree pieces. Lampwork and other glass beads make excellent connectors and covers. And don't forget the wood and paint aisles at the craft store! Bottles of copper, gold, and silver paint can transform wood into shiny metals. Another must-do is to dig thru bundles of old wires to find the copper inside. Strip off the plastic insulation cover and you've got a strip of copper wire that will hold its shape after you bend it. When you're working on your steampunk minis, don't forget to keep a small bottle of black paint handy so you can dab a little "grease" around the joints and gears for a completely realistic look.
It's all about the mystery so your creations don't have to be recognizable as the forefather to some modern mechanism. After all, it's 2011 and we're still not riding around in flying cars so obviously some inventions don't always meet with success. If you like whatever it is you've created but aren't sure what it is, then give it an obscure type of name and act mysterious about it.