Welcome to the Greenleaf Gazette!

Floors And Fall Foliage!

October 2007
Dear Miniature Enthusiast,
October is National Miniature Month and that means it's a busy and fun time around the Greenleaf forum. The annual Halloween madness contest is still in progress and if you'd like to learn more about all the fun we're having, you can visit our forum Front Office for all the news. Congratulations to all this month's winners!!!
This month's Gazette has a little something for everyone. From Susanne's fantastic autumn landscaping, to an in-depth look at flooring choices, you'll find lots of fantastic ideas to try on your own house. Oh, and we've included a goody bag of Halloween eye candy for you too.
Deb Roberts
Editor in Chief
---

Finding the Perfect Floor

By Deb Roberts

A big decision made by every builder is how to finish the floors in their houses. There are a lot of pre-made flooring options on the mini-market, but many are expensive or difficult to work with. Let's explore some options that are easy to do, fun to make and affordable too! .

Full story...
---

Susanne's Fall Landscaping!

By Susanne Gale

Susanne shares her expert techniques for creating a delightful fall landscape with us. This scene is so realistic that you can almost smell the woodsmoke and apple cider in the air!

Full story...
---
Halloween Eye Candy

By Thelma the Bear

With Halloween just around the corner, we thought we'd give one last treat and fill up your goody bag with some of the best eye candy in the miniature world. Enjoy the treats our forum members have brewed up for you!

Full story...
---

October's Featured Member of the Month - Meet Greg

By Teresa Martens

Greg (Hallowell) has been a member of the Greenleaf Miniature Community since October 7, 2006. With 4,695 posts (and counting!) Greg is a valued member of the community sharing his insight, skills and talent with us. His talent as a decorator leaves us inspired and in awe and we're often left wondering, how'd he do that or where'd he get that? Greg also has a generous heart, often helping out in his community wherever there is a need.
---
October Quick Tip

By HavanaHolly

To age windows for a haunted house, try "washing" the windows with a 50-50 mix of white glue & water & wipe it off with a cotton ball. (Thanks Holly!)

If you would like to submit a Quick Tip to the Greenleaf Gazette, please send an email with your tip to deb@greenleafdollhouses.com and include the words "Quick Tip" in the subject line.
---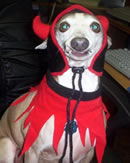 The Critter Corner!

"I'd only dress like this for a Chocolate Kiss"

Milo, the miniature greyhound, has a covert taste for chocolate tidbits and we're pretty sure he allowed his human to put him in this lil' devil suit in hopes of getting to go Trick or Treating. From what we hear, Milo is a real angel (just don't ask the cat for her opinion about that!!)

Thank you Nutti for sharing such a great picture of Milo with us! Milo will receive a $25 gift certificate from Petsmart for being the October Critter of the Month.

If you'd like to submit your pet's picture for consideration for the Critter Corner, you can upload pictures in the "Good Pets acting bad!" or "Good Pets acting cute!" galleries at the Greenleaf Forum.