Susanne's Fall Landscaping!

By Susanne Gale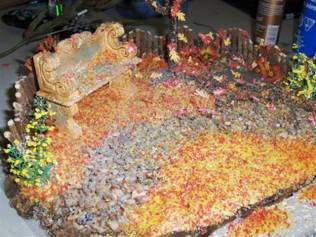 I started off with a base, a bench, tree (Lemax), and a pond that I made. To make the pond I just cut the bubble off a package, painted the inside a murky green colour, and let it dry. I then scattered some pebbles on the floor of the pond, and poured in some Ultra Glo. It dried clear, but as I wanted it to look like a thin crust of ice had formed, I then sprayed on a coat of Scenic Cement.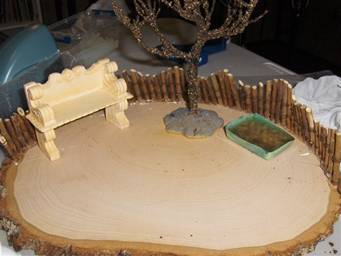 To make a pebble path:
Mix together brown acrylic paint with Greenleaf Stucco Mix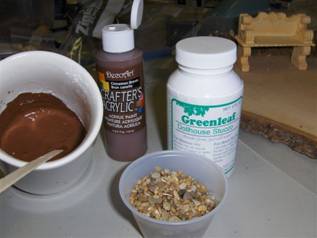 Spread pathway on the base.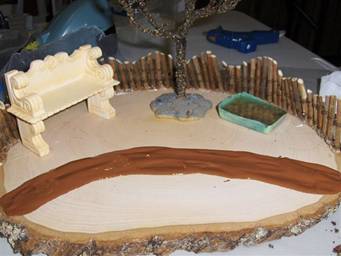 Press small pebbles into the stucco/paint mix.
Let dry.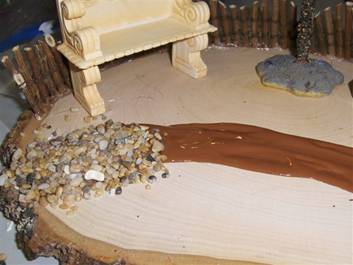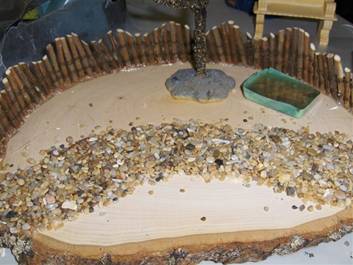 I mixed flocking colours to get some nice bright Fall colours in my foliage:
pale yellow
bright yellow
red
orange
Water down your glue (I use Aileen's Tacky Glue) and cover the base areas where you'd like the foliage.
Sprinkle the foliage over the glue.
Press down firmly.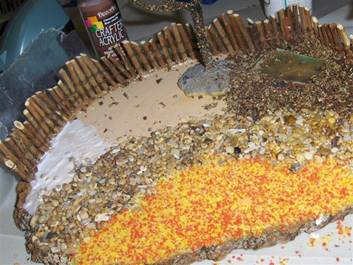 After I've covered all of the ground with flocking, I added some Fall leaves and flowers. The leaves I bought off a roll of Fall flowers (HBS Miniatures), but you could use punches to make your leaves. The flowers were snipped off stalks that I'd bought at the Dollar Store. I used hot glue.
I sprayed the entire scene with a coating of Scenic Cement. I prefer this to hairspray as it looses its tackiness when it dries.
And here's the finished fall scene!