Finding the Perfect Floor

By Deb Roberts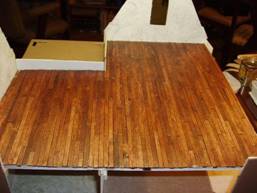 A big decision made by every builder is how to finish the floors in their houses. There are a lot of pre-made flooring options on the mini-market, but many are expensive or difficult to work with. Let's explore some options that are easy to do, fun to make and affordable too!
Your choice of flooring depends on your personal preference and the style of décor you're using in your house. Some houses crave hardwood floors with a glossy shine and a scattering of warm throw rugs, and others like the elegant look of wall to wall carpet. Some houses even ask you to go to extremes and demand that you give them parquet flooring. All these options are possible and easier than you might think.
Hardwood floors
Beginning with the basics, you can create beautiful hardwood floors with the plywood floors that are part of your kit simply by scoring the lines into the wood with an xacto blade or craft knife. A quilter's ruler is helpful to make the scored lines in the floors and can be found at most craft stores. A quilter's ruler is made of clear, hard plastic about 26" long and has a lip on the end so it can be snugged up against the edge of your floor. You'll get perfectly straight lines each time if you simply snug the lip of your ruler against the floor and run your xacto or craft knife down the edge of the ruler to score lines into the floor. When you have all the vertical lines scored into the wood, use your knife to make occasional vertical cuts for the planks and an awl or pin vise to put tiny nail holes in the ends. Perfect hardwood floors with no extra cost at all!! Once you're done scoring, you're ready to stain and varnish.
If you'd like a more dimensional hardwood floor, or if you're going to be running tape wire under your flooring, you can use skinny sticks, popsicle sticks or siding strips for your floors. Skinny sticks are in scale for most hardwood floors while siding strips are perfect for rough planking. If you'll be putting the flooring over tape wire, first create a template from cardstock for each floor and glue your flooring strips to the template. The template can be taped down to the floor and removed if you ever need to access your wiring. If you'll be using a cardstock template, it's a good idea to stain the flooring strips before you attach them to the template and use something other than a water based glue to avoid warping. (rubber cement is a good choice)
Wendy shows us how it's done with this combination of hardwood floors.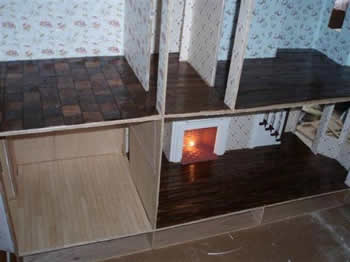 One of the most affordable and incredible options for hardwood floors are the Greenleaf birch tiles. The work is already done for you since they're cut into one inch squares and can be used for a variety of styles. A simple parquet floor can be made by just alternating the direction of the grain of each tile, or you can create an intricate parquet design with different colors of stains or cutting the squares into halves or quarters. A great source of parquet designs can be found in quilt block patterns.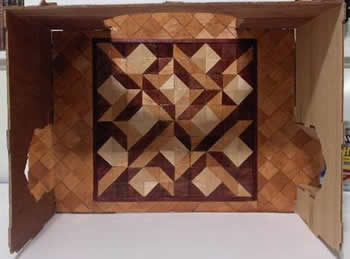 If you're going for a rustic or lived-in look, after you've stained your floors, touch the 'high traffic' areas around doorways or halls with a bit of fine grit sanding to wear down the stain just a bit. You'll be amazed at how realistic that little touch can be. The perfect finishing touch for your hardwood floors is to give them a deep shine. After the stain has dried brush on an even coat of poly varnish and let it dry. After it's dry, use a very fine grit sandpaper across the floor, brush off the grit and varnish again. Repeat those steps two to three times for a rich, deep gloss to your hardwood floors. For a more mellow look, apply a thin application of paste wax and buff it out.
Carpeting
Everyone loves the feel of warm carpet under their toes, even the little people! Wall to wall carpeting in your mini house gives an elegant look to any room. The greatest pitfall to mini carpeting is finding a nap that is in scale with the house. Consider how small a nap would be if it were truly 1:12 scale! That's where a visit to your local fabric store yields a bounty of mini carpeting solutions.
Felt is easy to find, comes in a huge variety of colors, can be purchased in small amounts, and its texture is perfect for miniature carpeting of a casual style. Velvet nap is even more perfect in scale and because the nap is coarser than felt, it looks more realistic. Velour is also an excellent choice for mini carpeting. Velvet and velour are a little harder to find in small amounts, but if you check your local fabric or craft store remnant bin (especially around the holidays), you might find some wonderful treasures in just the right amount.
Another wonderful source for mini carpeting and rugs are upholstery samples. It's hard to find prints that are small enough to be in scale, but take along a piece of cardboard with a one inch square cutout to determine the scale when you go shopping. Hold the square over the fabric pattern to determine if it will work in 1:12 scale. A lot of upholstery stores will sell remnants or sample books so one visit to an upholstery store can yield a multitude of carpets for your stash. You can also fussy-cut portions of a design from fabric to make throw rugs. Cut them to the size you want and use a pin to fray the edges for fringe. A spray of starch or a touch of glue to the underside will set the edges so they won't fray any more.
Carpeting can be attached directly to the floor with double-sided tape, or you can attach it to a cardstock template if you prefer. Avoid using glue to attach fabric to a template since the glue will soak thru the fiber and be visible from the top.
Vinyl floors or tile
A terrific look for almost any floor (especially in a kitchen or bathroom) is vinyl tile. There are lots of options for tile floors, from commercial sheets of miniature tiles to real life peel-n-stick tile, so you can find almost any look you want.
Greenleaf makes fantastic peel-n-stick miniature vinyl tiles in an assortment of colors that are incredibly easy to use and very affordable. They're also easy to trim with a pair of scissors, so you get a perfect fit in each room. Want a look that says your mini-maid has spent all day waxing the kitchen floor? Add a coat of poly varnish over the top of the vinyl tiles and your mini kitchen will be the envy of every Martha Stewart in the neighborhood!
Irene used a combination of vinyl floor tiles in her Beacon Hill and you can see the different looks you can get by choosing either 1:12 scale tiles or using a real life tile for the look of a solid marble floor. Both are lovely!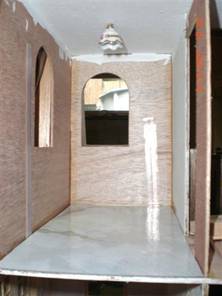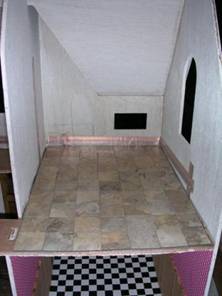 Holly takes the Greenleaf vinyl tiles to a new level by mixing different colors for a patterned floor with a lot of flair!!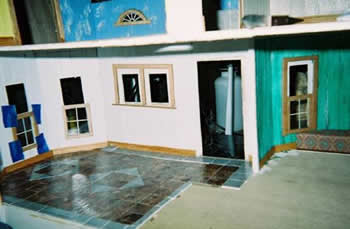 Another option for tile floors is to use mosaic craft tiles or tile samples from your local hardware store. Anya shows us a truly inspired tile floor done in clay tiles she made herself.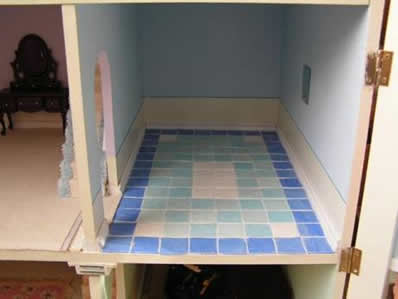 Stone floors
Some houses need stone flooring and that's an option that's fun to create as well as very dramatic looking. Paperclay can be used to make a unique stone floor or you can use life size vinyl tile and carve your own stone pattern into it. Tracy shows us this Rik Pierce technique in her Coventry Cottage blog. (you'll need to scroll down to the bottom of the page for that tutorial)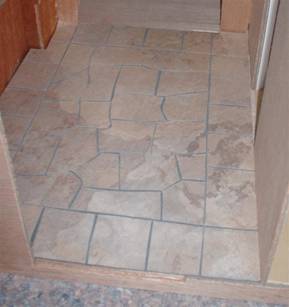 The types of flooring you can use are almost as endless as the style of house you're building. No matter what your style might be, the right flooring gives your house the foundation on which it builds its character.
Return to newsletter home...