Dear Miniature Enthusiast,
Fall is finally here and with it comes the fun of holiday miniatures! This seems to be the time of year that miniaturists like best. We all love to decorate for the holidays but sometimes it's not possible to put up all the décor we'd like to have in our real life homes. However, it's a breeze to decorate a miniature home for any holiday and the results are so satisfying! Not only that but we can add to the holiday decorations with new items we've made ourselves in just an hour or two.

In the next few months we'll be providing lots of inspiration for the upcoming holidays, beginning with Halloween--a real favorite among miniaturists. It's so much fun to let our imaginations run wild! This month we have a tricky tutorial for a No-Sew witch's hat to get things started. The trick is how easy it is to do. And as a special treat this month, Otterine joins us with a simply amazing tutorial for café shutters! Heidi also treats us to the Collector's Cabinet with some door-to-door requests to show us the good stuff! She's found some eye candy that's better than chocolate!

I went to my local miniature show last month and even through the haze of my miniature shopping craze, I noticed something unusual. More and more vendors are carrying items for smaller scales! In the past it was difficult to find even the smallest selection of half scale furniture, but this year half scale was everywhere. From furniture to architectural additions, vendors were all embracing the popularity of half scale. I even saw quite a few half scale accessories and décor items so it seems that half scale is definitely and firmly taking its place as a popular scale. That's truly happy news that I had to share! If you haven't already, go take a look at all the fabulous half scale wonders that are available exclusively at the Greenleaf Company Store.

Hold the phone! Dean just told me about more new releases; the Diana reborn in both one inch and half scale and a half inch version of the Arthur. All are laser cut and only available directly from Greenleaf! To further wet your appetite, I talked him into another coupon sale so you can get these babies and all the other new stuff at 20% off (see below)!!! The sale expires Monday, so don't delay!
Deb Roberts
Editor in Chief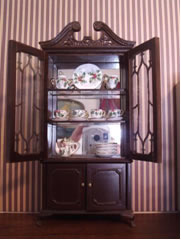 Collector`s Cabinet

By Heidi Cleveland

It is my great pleasure to introduce you to our three collectors for the month of September. We are going to see some lovely miniatures from Brezavaqt (Bre), More Minis (Gina), and Pastalinda (Linda).

Full story...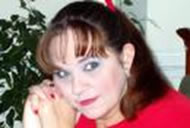 Member of the Month - Meet Paula!

By Heidi Cleveland

This is the perfect time to introduce our September Member of the Month, Paula (Alamom). She has been a member of the Greenleaf forums since December 30, 2007.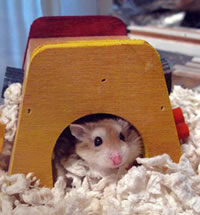 The Critter Corner!

Hamster in Half Scale

Baxter is a tiny little dwarf hamster about the size of an egg which definitely makes him half scale! He's such a cute and furry little mini too! But poor little Baxter doesn't have much space in his little house. I wonder how he'd feel about moving into a half scale Rosedale? Or maybe even a Van Buren? He seems happy in his little space, but even a hamster can dream of owning a Victorian mansion

Thanks to Brae for sharing such a cute picture of Baxter with us. She and Baxter will be receiving a $25 gift certificate from Petsmart for being featured in this month's critter corner.

If you'd like to submit your pet's picture for consideration for the Critter Corner, you can upload pictures in the "Good Pets acting bad!" or "Good Pets acting cute!" galleries at the Greenleaf Forum.