The Collector's Cabinet

By Heidi Cleveland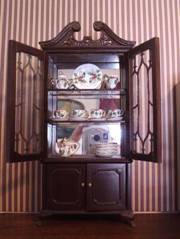 It is my great pleasure to introduce you to our three collectors for the month of September. We are going to see some lovely miniatures from Brezavaqt (Bre), More Minis (Gina), and Pastalinda (Linda).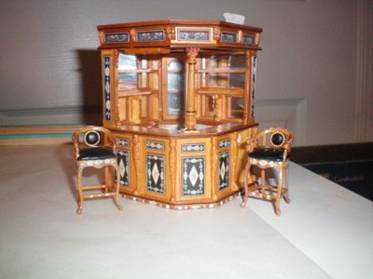 Bre says that her most prized possession in miniature is her half scale Bespaq bar with stool set. It was purchased from her favorite dollhouse and miniature shop, Forever Friends. The shop is located in Onley, Maryland. It takes Bre almost an hour to get there but she says it is well worth the drive. Bre purchased this beautiful set for her half scale Elizabeth Anne dollhouse. It is her first time venturing into half scale, so she decided to furnish the house with all Bespaq furnishings. She really was not searching for the bar set. When she saw it, she just knew she had to have it. She was lucky to get the set for 50% off also. Bre says this mini is just like her. It is eloquent and classy, yet she likes to have fun!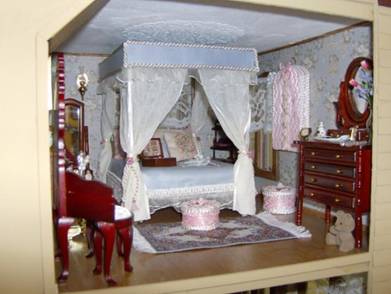 Gina feels that this custom made bed in her Willowcrest is her favorite of them all. She had it made specifically for her by our very own editor, Deb of Deb`s Minis. It is the only miniature that Gina has ever had custom made. She was searching for a canopy bed for her Willowcrest. She had not decorated any of her houses with this style bed before so she wanted something different.
The Willowcrest is a dollhouse that brings back a lot of memories for her. It was the very first dollhouse she had ever seen and the first she tried to build. She wanted something extra special to match the decor and any ready made bed was not going to do. It had to be something special. The little butterflies embroidered on the pillows are very special to Gina because she uses that as a symbol for herself. It symbolizes transformation and a new beginning for her. Miniatures took her out of a very dark place in her life. She loves that she is represented in this bed. She can remember that every time she looks at them.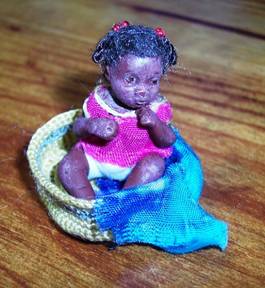 Linda`s miniature is extra special. It is this Haitian baby pictured above. She purchased it from Morena Ciambra on ebay. She made this baby the day after the earthquake hit Haiti January 12, 2010. The proceeds went to Haiti Relief. She did not purchase for a specific dollhouse in mind. Linda has been collecting baby dolls and she has the makings to build a nursery roombox. Even though Linda collects baby dolls, when she saw this one it was definitely an A-ha moment for her. She recklessly bid on it. She was going to have it! She feels that this miniature represents her in that she loves, collects, and makes all things miniature. She is also very interested in mission work.
Thanks to all who participated this month for the Collector`s Cabinet. Keep those pictures in the Gallery coming. You may be the next to be asked to talk about your favorite!