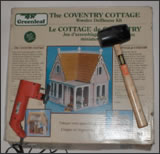 Dollhouse Kit Bashing

By Deb Roberts

Dollhouse Kit Bashing, to bash, or not to bash, that is often the question. We fall in love with a kit and think 'it would be perfect if only it had a slightly different porch, or an extra room, or just a little more space on the first floor. Over and over, miniaturists are heard to say that they'd love to bash a house but they're intimidated by the thought of modifying a kit.

Let's stop right there and consider that thought. A house kit is made of wood and you use glue to put it together. There's really nothing about a combination of wood and glue that should be frightening or intimidating. If you can build a house from a kit, you've got the skills to bash it. There are very few "oops" moments that can't be covered with a bit of trim, some wallpaper or paint, or a strategically placed piece of furniture. In the very worst case scenario, in most cases you can always contact the kit manufacturer and order a replacement piece. So let go of the inhibitions and open your mind to the wonderful world of bashing!

There are a couple of different schools of thought about the definition of kit bashing. Some say that bashing a kit is dramatically altering the shell, or combining two kits into one structure. Others say that bashing can be as simple as making a modification to a door or window. Because we'll be covering a multitude of modifications, let's use the term 'bashing' to cover any modification made to the structure of a house.

Tools

Tools are often the first thing that comes to mind when someone considers bashing a house. Power tools can be nice, especially if you're a habitual builder and will be using the tools enough to justify the expense. However, fancy tools are not always needed to complete a bash. For most bashes, the only tool you'll need is one with which to cut plywood. With care and patience, you can use a utility knife to score thru plywood to make your cuts. It is easier to use a rotary tool with a cutting wheel and you may want to consider investing in a rotary tool. (Rotary tools such as the Dremel are inexpensive and have a multitude of uses.)

Materials

The subject of cutting brings us to an important point about bashing---the composition material of the kit. MDF is a thicker composition material and can be very hard to modify. It's difficult to cut even with power tools. Kits made of plywood have a greater potential for bashing since the material is easier to work with and modify. You're not just confined to wood for your bashing however. Materials such as foam core can easily be cut with scissors to make a new wall or roof piece. Foam core is available in a variety of widths to match the width of your plywood. With some creative thinking, you can find other materials that can be used to modify your house. PVC pipe can be cut and used for towers and bays and heavy styrafoam can also be used. Sheets of basswood are readily available in most hobby or craft stores and can easily be cut to fit your needs. When selecting your materials, keep in mind the function that your house will have. If it is a display or collector's piece, more fragile materials can be used, but if the house is going to be a hands-on playhouse for a child, you'll want to stick with wood.

Upgrades

So where do you begin with dollhouse kit bashing? One of the most popular modifications to a kit house is a door and window upgrade. There are a lot of choices on the market for door and window upgrades. You can select an upgrade package specifically designed for a kit by the manufacturer, or you can customize your own upgrade by selecting individual doors and windows made by third party manufacturers. If you purchase an upgrade kit from the manufacturer, you won't have to make any modifications to the house and the installation is as easy as gluing in the components. If you choose to select individual components, you may need to modify the door and window openings to fit. Most retailers will include the measurements for each component in their advertising so you'll have a good idea if that component will fit your window or door opening. If the component doesn't exactly match the opening on your house, you can always cut the opening to a larger size. On occasion, the component may be shorter or narrower than the opening, in which case, you can always creatively add trim to the edges, or even a decorative pediment at the top.

Adding Windows and Doors

There are times when you just need a window in a place where one is not, or a door between two rooms. These are simple modifications that require you to determine where you want the window or door to be and mark that location with cutting lines in pencil. For a smoother cut, drill holes in the wood on the inside of each corner of the area you'll be cutting out and then make your straight line cuts between the holes. Got a window or door in a place where you don't want one? Leave the punch out pieces in place and give the seams a light coating of glue on either side to reinforce them and then cover them with wallpaper or siding.

Stairs

Stair upgrades are also very popular and can add charm and life to a house. Stair upgrades can be purchased as either pre-built components or as kits, and the specifications will give measurements and height. You'll want to makes sure your stair upgrade is either the correct height for your house, or determine that it can be modified to fit. Quite often with a stair upgrade, you'll need to make some changes to the opening in the second or third floor for the stairwell. That change can be as simple as enlarging an existing square or rectangle opening or it could require that you make a more complex cut in the floor to accommodate a spiral staircase. When modifying the opening, it's a good idea to dry fit the staircase into that area first and use a pencil to mark where the changes will be made. You can use basswood strips or skinny sticks cut to size to frame the opening for a smooth finish. With stair upgrades, you may also need to modify the banisters around the stairwell opening, so keep that in mind when you're planning your upgrade.

Interior walls

Interior walls can easily be added or removed to create a whole new floor plan. Some existing interior walls may have tabs that fit into slots in the floors and ceilings so if you're removing those walls, you'll need to fill in the slots with putty. It's important to put the house into dry fit when you're planning changes to interior walls. If the interior wall is 'load bearing' or interlocks with another piece, you will have to take that into consideration. Load bearing walls can be replaced by pillars or columns to provide support to ceilings above them. Interlocking pieces can be a bit trickier since they often provide support for the entire structure. Rather than remove an interlocking wall, you might consider creating a wide arch instead so that the portion of the wall that interlocks with the floor or ceiling remains intact.

Adding interior walls can be as simple as cutting a piece of wood to fit and gluing it in place, but it's recommended to provide just a little more support. Baseboards or crown moulding can help secure the wall at top and bottom, or corner trim can be placed in the corner joins of walls.

Porches

Bashing a dollhouse kit porch makes a dramatic difference in the overall look of a house and can be very easy to do. A porch can be altered by changing the types of railings and trim, or you can modify the entire porch to a whole new look. Extending a porch to a wrap-around style adds grace and elegance to a house. You can create a wrap around porch by using the existing porch pieces as a template and adjust them as needed to meet the measurements for the other side of the house. Use a mitre cut or insert a triangular piece for the join at the corner of the house for a smooth look. Would you like to have a balcony where the existing porch roof is at? Flatten the slanted porch roof by lowering the inside edge, or by lifting up the outer edge and extending your porch railings higher to create a balcony floor, then add railings to the edges. Support the interior edge of the balcony floor by gluing support beams under the inside edge. The same can be done with a wrap around porch by cutting a larger triangle piece to go in the corner join and you'll have a lovely wrap around balcony. Want a screened in porch for a country look? Add railings between the porch floor and porch roof and glue panty hose to the interior to make screens. Looking for a vine covered cottage? Create lattices from basswood strips or skinny sticks and add them to the sides or front of the porch where you can embellish them with greenery and flowers.

The Big Bash

Ultimately, the big bash is a dramatic alteration of a kit, or combining two kits into one house. That's really not as intimidating as it sounds. Put the house or houses into a dry fit and then sit back and take a good look. Where are the areas that "flow" into a natural design? Are you going to be removing an exterior wall and adding a wing? Decide where you'll create supports for the walls you're removing and determine placement and measurements for the new walls. Bashing two dollhouse kits together? With a roll of masking tape, begin moving pieces around and experiment with various placements till you find the look you're going for. When you've decided on the design, pencil in your cutting lines or notes on the wood for reference points. It's also helpful to take digital pictures of your design to refer to as you build. There may be some gaps or joins where you need to add in some pieces of wood cut to fit and it's a good idea to cut a paper template of those areas while the house is still in dry fit. Once you have your design planned, you're ready to grab the glue and start bashing! For added stability to your bash, you may want to add support beams under the joins, or use corner moulding for extra reinforcement. You may want to also mount the house onto a sheet of plywood or mdf as a permanent base to make moving the house more secure at a later time.

The great joy of dollhouse kit bashing is that it allows you to take a kit and customize it into your own personal and individual design. Relax and have fun with it! Follow your creative instincts and you'll have the house of your dreams!

Back to the April Newsletter...