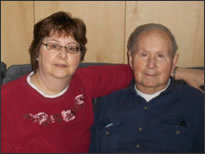 April's Member of the Month - Meet Missymew!

By Teresa Martens

Susanne (Missymew) has been a member of the Greenleaf Miniature Community since October 8, 2005. With 2,703 posts (and counting) she never fails to inspire or offer support and encouragement to her fellow community members.

Susanne tells the story of her start in miniatures with a sense of fond remembrance. Her father, who is now 80 years old, built the Beacon Hill doll house for her. He saw it advertised in a magazine and thought it would be a great retirement project. Edmonton has especially long and cold winters and he felt that this would be something he would enjoy building.

When the kit arrived it was larger than he had anticipated. Other than the instructions included with the kit, the only information available to him at the time was through the library. He would check out books and go through them looking for ideas. There were no miniature stores or internet available to him either.

Being resourceful, Susanne's Dad took apart some miniature Christmas lights he had found at a local flea market and adapted the light bulbs to fit his electrical needs. Susanne and her Mom scrounged through second-hand shops and flea markets looking for interesting wallpaper, paper or cloth scraps. Susanne's dollhouse has wallpaper and upholstery fabrics that won't be found in any other dollhouse.

When Susanne's Dad finally presented her with the completed Beacon Hill, it was situated on a base with grass and sidewalks. He had also built a dog house and put it over the transformer to hide it from view. Susanne's husband, Ray, connected the wiring from the doll house to their living room remote control. At the click of a button, all of their accent lights turn on, including the Beacon Hill lights. View Susanne's Beacon Hill.

Susanne didn't add or change very much to the doll house for several years. Access to groups like the Greenleaf Miniature Community were not available and she didn't know how to make anything at all. She didn't even realize there were miniature magazines because even in her large city, few magazine outlets carried any miniature magazines.

The internet finally gave Susanne access to miniature information that she'd been craving for years. She'd win miniature items on eBay to accessorize her Beacon Hill with and she also discovered online miniature stores and artisans. Then, she discovered the Greenleaf Miniature Community and it was like she had hit pay dirt! She found a whole community of like-minded individuals who understood what it was like to 'want more'. More furniture, dolls, bedding, artwork, books (with pages that turned), birdhouses, bird baths, fencing, gates, flowers . . . and she wanted to learn how to make some of these items herself. Susanne also wants another doll house . . . in fact she wants a whole street or cul de sac of doll houses!

Susanne won the 'McKinley' in the Greenleaf Winter Contest in 2005. Her plans are to turn it into a stately mansion. Last year, she was thrilled to be asked to be part of the 'Orchid' Community Build Team, which Susanne and her husband Ray turned into 'Goldilocks and the Three Bears' house. It was a great learning experience and Susanne discovered that she and her husband make a great team.

Recently, Susanne tackled the renovation of a 1970's Arrow doll house which she turned into a mini Toy Store. It was great fun and served as a place to collectively store the large collection of miniature toys that she's accumulated. While working on the Toy Store, Susanne entered the Greenleaf 'Heart Arbor' Contest. She didn't want to use any of the doll houses that she had already built, instead having Ray build a standalone porch for it. Click here to view this lovely scene.

Susanne has also built the 1/144th scale Beacon Hill, a couple of room boxes, a Dutch Baby House, a couple of 1/48th scale kits, and a 1/12th and 1/24th scale 'Teddy Bears' Picnic' scene all of which you can view here.

The favorite part of miniatures for Susanne is landscaping. Over the last couple of years she has read anything and everything that touched on the subject of landscaping in miniature. To Susanne it's the crowning touch on any miniature project, and I'm sure you'll agree, she does it very well.

Currently, Susanne is working on the 'White Orchid'. She has her supplies ordered and is looking forward to getting started. However, living in Canada, it can take a few weeks for mail orders to arrive, but her work table is clean in anticipation of starting the project.

Susanne's future plans include building the Glencroft and Victoriana, doing more work in 1/24th and 1/48th scales and honing her landscaping skills. She'd also like to participate in more Greenleaf Community Swaps. In her first swap, Susanne made cat beds (I have one, they're awesome)! It took her a long time and she was very apprehensive as she didn't want to disappoint anyone (which she didn't)! She was very excited to receive her 'swap box' and was saying "wow" over and over again.

Susanne schedules her mini-time around her job, her husband's job (he's a shift worker) and visiting her Mom and Dad who are very supportive and encouraging. Susanne and Ray share their lives with their two cats, Missymew and Trinity (who always sits beside Susanne in her own special chair). Susanne enjoys 'me-time' by reading books or miniature magazines, doing crossword or sudoku puzzles, playing with her cats, working on miniature projects or reading her Daily Bible Devotional with Ray.

Susanne says that the Beacon Hill will probably always be her favorite house. It's her definite first choice in the doll house line. Not only that, but her father built it, and that makes it pretty special.

As our 'Featured Member of the Month', Susanne will receive a $25 Gift Certificate to the 'Greenleaf Store'. Congratulations, Susanne!