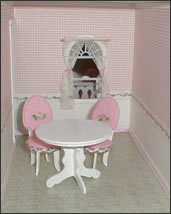 Die-Cut Divas

By Deb Roberts

Ladies and gentlemen, boys and girls, miniaturists of all ages! Step right up and be prepared to be amazed! What you're about to see will open your mind and forever change the way you feel about die cut furniture. Today, in this very room, we're going to eliminate the misconceptions and bring a new awareness of beauty and form to the miniature world.

Let's face it, we've all heard the words, 'die cut furniture is sturdy for kid's play but it could never be considered as designer décor'. Oh, but we are about to prove that theory wrong! On one hand, part of that statement is very true. Die cut furniture is very sturdy and is perfect for a starter set in a dollhouse made to be loved by a child. It's affordable and easy for small hands to manipulate. It can also be very quick and easy to build. But can it go beyond that function? Can die cut furniture be made to go into the designer or themed house of a collector?

Yes! Die cut furniture kits are often overlooked as a resource for customized furniture for your designer or themed house. With a little patience and some creativity, these handy little kits can add life and character to your mini home. As with any plywood, you'll need patience to sand the pieces smooth and wood filler or spackle to smooth the edges. Corners can be rounded by using spackle or filler to mold to the edges and give a softer rounded look after you've glued the pieces together. While that prep work can be time consuming, it's worth the effort to get a smooth finish. After that, your furniture is a blank canvas for anything your imagination desires.

Paint is one option for finishing your furniture and you can use a sedate and traditional paint scheme, or step out of the box with bright and colorful themes. Teresa took a walk on the wild side with her choices for the die cut furniture she made for her "Three Blind Mice" house. Her whimsical designs combine cheerful colors with a delightful sense of humor. The end result is a charming houseful of furniture just perfect for a themed Mouse House.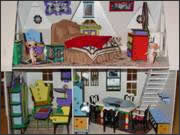 Teresa gave these pieces a finish that is colorful and bright. Touches of black paint around the edges give an added dimension to each piece.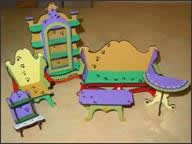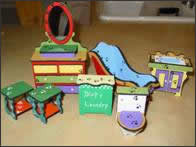 Peggi also used die cut furniture kits for her Snow White and The Seven Dwarfs themed house. Using a more natural look, she stained the living room set and added leather cushions for a masculine touch. Being miners, the perfect accessories in the room are samples of the precious stones gathered from the mines and they're shown off to perfection with the natural wood tones of the table and curio cabinet. In the kitchen, Peggi gave a more modern look to the stove and refrigerator with a black and silver scheme.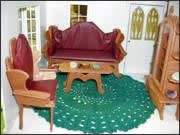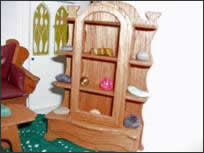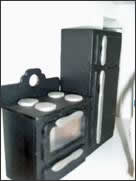 Deb likes to work with period pieces and discovered that die cut furniture can be adapted for almost any era. With a few jewelry pieces added as embellishments, the bathroom kit became an art deco oasis.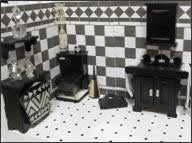 Some bright colored paint and a few throw pillows accent the perfect lines of this living room set to create a 1970's living room. The couch in this room is actually a captain's bed kit that was just slightly bashed.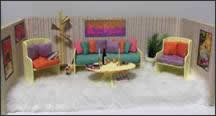 A little sponge painting and aging on this kitchen table set convert it to a great patio dining experience.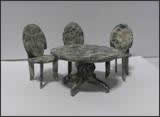 Melissa shows us that die cut furniture can be romantic and elegant as well. Adding some embellishments to this captain's bed kit and accessorizing with delicate linens creates a bed that guarantees sweet dreams.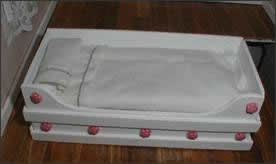 Her addition of some trims and fabric to this kitchen set gives a lovely and feminine tone. Coordinating the fabrics with the wallpaper and curtains in the kitchen blend it all into a beautiful designer room.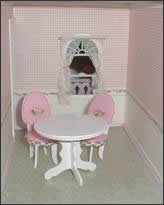 The versatility of die cut furniture is nothing short of amazing. If you look closely thru the pictures, you'll see that many of these creations are the same kits, but each of them has a distinctive personality all their own. From whimsical to elegant... from picture frames to bathroom fixtures... from themed rooms to period pieces... take your creativity to a whole new level and experiment with die cut furniture.
Get your die cut furniture kits now at the
Greenleaf Company Store!